Alright, not to be that person, but I honestly didn't know who Kayla Itsines was before I started her BBG Beginner program. Her ads do constantly pop up on my socials, but other than that I was totally out of the loop of her cult-like fandom.
That said, when the opportunity try out the fitfluencer's new BBG beginner plan came up, I was like, "Yeah, sure. I'd like to start working out more." My previous routine was basically made up of jogging sporadically and taking a weekly cycling class. That was great and all, but I didn't have anything to hold me accountable…except myself. So I signed up and did nothing for a while.
A week or so later, I heard my friend talk about how Kayla's other BBG programs were so hard that they had to quit after months and buckets of sweat! So then I wanted to die, but I had already agreed to try it. To the yoga mat I went with a lump in my throat.
WTH Is a BBG?
For the life of me, I could not work out what BBG even stood for. Turns out, it means "Bikini Body Guide," which feels loaded especially in this 2,020th year of our lord Beyoncé. But on her website, Kayla said she recognizes that every body is a bikini body and built this program so that her followers can "develop the inner confidence that comes with showing up for yourself." So…¯\_(ツ)_/¯
BBG started in 2014 as PDFs before it became a mobile app a couple years back. The original BBG program involves completing four to six sessions a week, focusing on "high-intensity plyometric exercises," according to the app's website. That means you can expect a lot of jumping. (My friend had to quit because this type of training was too hard for her to complete, but so many people swear by her 12-week program.)
How BBG Beginner Works
Unlike her previous programs, the BBG Beginner is a little easier (read: ALMOST NO JUMPING) and designed for you to become stronger, leaner, more endurance-ified, or whatever over the course of two months. It's also meant to create a solid fitness baseline so that you can move on to other programs on the app. (Anyone who didn't finish the O.G. BBG program may want to try BBG Beginner before they level up.)
The program is divided into three types of routines: resistance (two days a week), cardio (10 to 60 minutes twice a week), and recovery (20 to 30 minutes twice a week).
The resistance circuits involve doing 10 reps of six moves at your own pace. You have seven minutes to do as many repetitions (Kayla calls them "laps") of a given circuit before moving on to the next circuit with new moves. So when I was super tired and the app told me to lunge, I did 10 slow lunges—and it didn't matter! The point was that I did them, which was nice. Most of the strength moves are bodyweight exercises, meaning you don't need much equipment. But some days the moves require small dumbbells (between 5 and 8 pounds) or a resistance band.
As for the cardio stuff, I had to learn another vocab word: LISS. It stands for low-intensity steady state cardio, which is just maintaining the same level of intensity during cardio for a certain period of time, like walking or running, or biking at a steady pace. That fit seamlessly into my previous workout routine. So yay!
And before you assume recovery means a day off, let me tell you it does not. This part of the program involves foam rolling and yoga poses to stretch your aching muscles and get you ready to be even better the next day.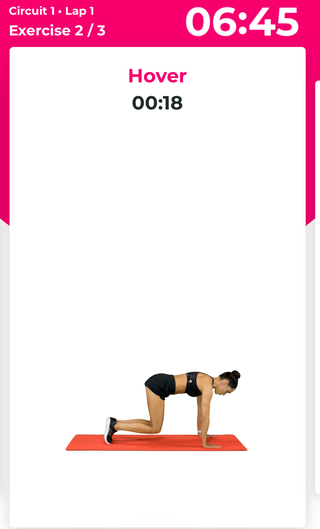 It's Tough, But I Survived!
Right off the bat, I favored the cardio days the most because that's what I was used to doing before starting Kayla's program. The resistance training was a whole other story. When I previewed the moves before starting the workout, I was filled with dread. But since I could do this workout at home, I asked my roommate to join, put on some Christmas music, and got to work making my way thorough each move and sipping water every five minutes.
The first couple of days were totally doable, but I was so sore I could hardly move! I literally woke up in the middle of the night from soreness. The soreness woke me up.
It definitely wore off after I did the recovery stretches and took a couple days off, but my muscles hurt for the entire two weeks I spent with BBG Beginner. The bright side: I think this is what getting abs and a booty feels like?
A Few of My Favorite Things
I loved that these workouts were short and involved zero jumping for the first four weeks. IDK what it is about the idea of jumping or having to get down on all fours on the yoga mat, but I hate floor exercises, so I really appreciated the modified moves, like the incline mountain climbers that sparked my heart rate and could be done by putting my hands on a chair instead of the mat. Win-win!
And as someone who would rather eat glass than lift something heavy, having breaks between each resistance circuit felt so much more manageable. And taking breaks between each circuit kept me from half-assing some of the moves and allowed me to finish without feeling totally defeated by a lack of physical fitness.
Another one of my favorite parts of BBG Beginner was how little equipment I needed (yoga mat, foam roller, dumbbells, and a resistance band), which means I didn't have to go to the gym and could sweat in my living room.
The only thing I didn't own was a foam roller (I modified with similar stretches, especially when I was super sore). I really wish I had one though because I'm a major fan of this portion of the recovery days. Kayla gives helpful pointers on how to foam roll if you have no clue what you're doing. Hint: instead of just staring at it in confusion, lay on top of it and roll out all the kinks.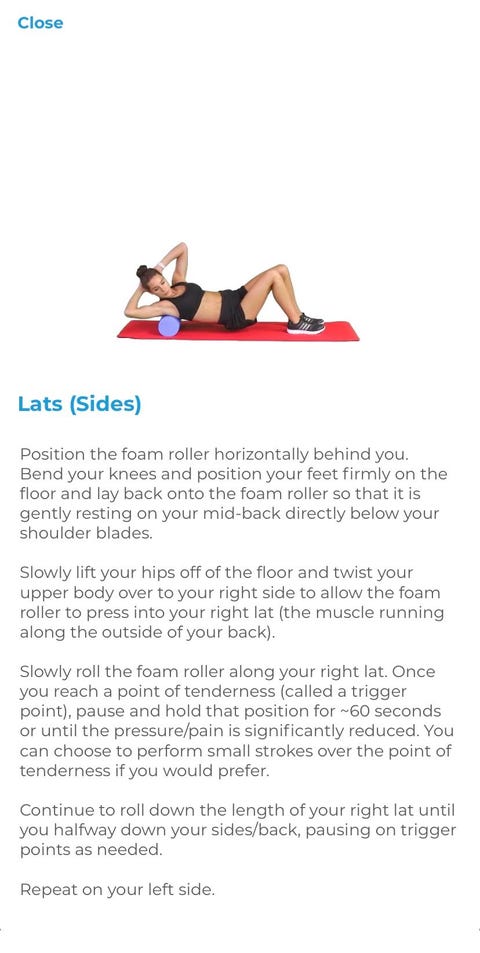 @ Kayla, Please Add More Prompts!
I'd love for the Sweat app to have the trainers remind you of your form, how much time is left, and encourage you to keep going. Then I wouldn't have to keep looking at my phone for cues. I definitely would've appreciated a little reminder to drop my booty down low and keep my chest upright when I was struggling through my last five squats.
The Results
In case you couldn't tell, the two weeks I spent working out with this app were not easy. I mean, yeah, five workouts a week helped me feel more energetic during the workday (my evening power naps have decreased!) And some of the moves like the hover and donkey kicks felt more natural after doing them so many times. Plus, I'm sure I'd feel stronger if I stuck with it long enough, but my aching body is reminding me that exercise, even BBG Beginner, is hard. That said, I'd happily invest the $20 a month for the app and incorporate some of these into my current workout regimen.
Download the Sweat App
Source: Read Full Article