Quitting smoking isn't easy. Some docs hoped vaping would transition people off cigarettes, but now there are questions about what vaping does to your health, too. And now, Philip Morris International gets the OK to sell a penlike device, called IQOS, that's halfway between a vape pen and a cigarette. It's been sold in other countries for about three years, and the FDA agreed to permit the sale of it in the US this week.
It's considered a "heat not burn" device, and it's kind of like a vape pen, but uses tobacco instead of liquid nicotine. The FDA acknowledges that "the products produce fewer or lower levels of some toxins than combustible cigarettes." That's good, since when burned, cigarettes create more than 7,000 chemicals, and the FDA agrees that IQOS delivers less carbon monoxide, formaldehyde, and acrolein.
It can't yet be marketed as a "safer" cigarette, the FDA says. And there's also no evidence that it helps you quit actual cigarettes, points out Michael Roizen, MD, chief wellness officer at the Cleveland Clinic.
So why would you use it? In The New York Times, André Calantzopoulos, the chief executive of Philip Morris International in The New York Times, says that "the IQOS offers a smoke-free alternative to continued smoking."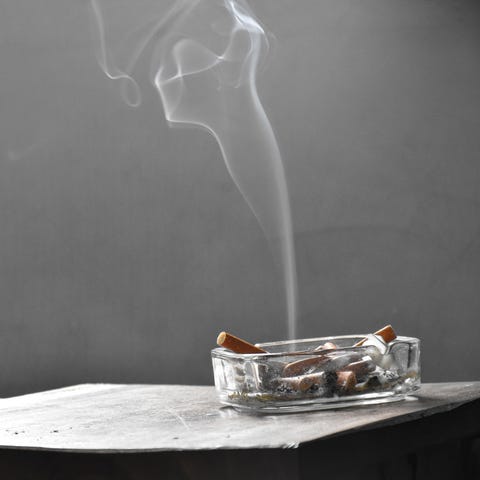 Xakhr Chay Tha Man / EyeEmGetty Images
Better ways to quit
Don't let that be good enough for you. "There are many proven ways to quit smoking," Dr. Roizen says. Nicotine replacement patches and prescription medications like Chantix and Zyban have track records, he says, adding that peer support is essential, too. In the Cleveland Clinic Wellness smoking cessation program, they've seen a 63 percent success rate in quitting among 5,000 people using the combination of nicotine patches, prescription medications, and coaching.
What many people who want to quit overlook is that "you have to replace the habit of smoking with something else, like activity," Dr. Roizen says. He recommends creating a quit plan, as does the National Cancer Institute, wherein you choose a date for quitting. Then, Dr. Roizen recommends racking up success by doing your smoking replacement every day until you quit. Suppose your smoking replacement is push-ups. Practice doing them every day before you give up cigarettes, so you go into the process with a track record of success. Research has found that even Twitter and milk can help you out, too. If you don't have a coach or buddy in the game with you, the National Cancer Institute has two free apps—quitSTART and QuitGuide—that promise support and motivation along your way to kicking the habit.
Source: Read Full Article