Aja Naomi King is an actress on THE most addicting TV show (How To Get Away With Murder, in case you had to ask). And, as you'll soon discover, she's also a part-time ice cream connoisseur (IMDB page pending update).
WH invited Aja over to judge a wide panel of high-protein ice creams—specifically, those packing more than five grams per serving. And although Aja was worried she'd like them all too much, selecting a winner in the end was a whole lot easier than she thought.
When she reached for the pint of healthier Enlightened ice cream, which has seven grams of protein, Aja was drawn in by the flavor: chocolate chip cookie dough (which she loves because she's a human person). But she stuck around for its super-good taste and took an extra scoop "for the road."
Also a top pick? Birthday-cake-flavored Halo Top, another low-cal option. "It is quite delicious," she said before going back in with her spoon.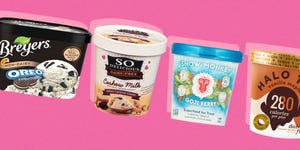 The big surprise came when Aja realized her favorite ice cream made the cut. "But wait, there's protein in this?" she asked when she saw the pint of chocolate fudge brownie ice cream by Ben & Jerry's. "Has it always been this way?" In fact, it has, but this flavor and the pint of Magnum, which was also a contender, are not here to convince you they're healthy—they don't skimp on the sugar, at all.
Pints like Yasso (a frozen yogurt), Halo Top, Enlightened, Archer Farms, and Breyers Delights are meant to be healthier alternatives to the classics. But if you're only concerned about getting your protein fix, hey, go for that B&J.
When all was said and scooped, Aja couldn't resist that Ben & Jerry's. But you'll just need to try them all for yourself to see if you agree.
Source: Read Full Article