You already know that Jennifer Lopez and Alex Rodriguez are #couplegoals—and that rings even more true now that they've finished their 10-day, no-sugar, low-carb challenge together.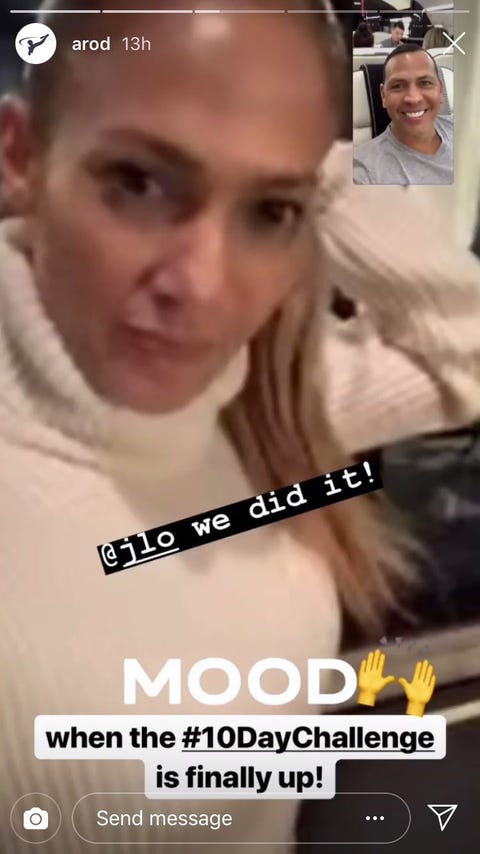 Alex Rodriguez / Instagram: @arod
A.Rod took to his Instagram Stories Wednesday to celebrate the end of the diet challenge. "Hey everybody, I'm so excited this 10-day challenge is over, no sugar no carbs," he said (on what looked to be a private flight). "For all of you that finished the 10-day challenge, congrats…and if you're a few days behind, keep going strong."
A.Rod also shared photo of a FaceTime session with J.Lo to check in at the end of their challenge. "@jlo we did it!" he wrote on the photo, along with "mood when the #10DayChallenge is finally up!"
Clearly, these two are happy that their no-sugar, low-carb lifestyle is finished. J.Lo shared an Instagram Story yesterday to celebrate the end of the challenge. "It's day 10, we did it, we're here," J.Lo said. "We still have the rest of the day, but I'm feeling pretty good that we can finish."
Apparently, J.Lo didn't mean finish for good. She hinted that she and A.Rod might start the challenge again soon. "Maybe we'll stop for a few days and then get back on it," J.Lo said. "Some of you can join me for a second round."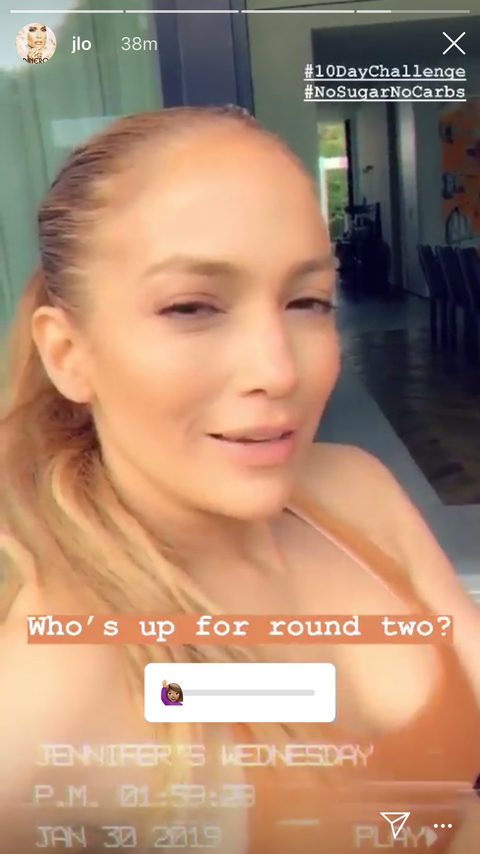 Jennifer Lopez / Instagram: @jlo
But even though J.Lo and A.Rod are done, there's still at least one person on the 10-day challenge: Hoda Kotb. Hoda finished Day 6 of the challenge yesterday and said it was the "hardest yet."
In a confession video for the TODAY show, Hoda voiced her struggles: "There's nothing to eat. I have to I have something," Hoda said, holding up her coffee with Coffee-Mate creamer (her "cheat"). "Oh my god…four more days. Argh," she added.
Congrats again to J.Lo and A.Rod. And, Hoda, you got this. J.Lo believes in you!
Source: Read Full Article